Network Classes
Primarily there are 3 types of Network Classes viz:

1. Class A

2. Class B

3. Class C

In case of Class A network, each consistent network will have a number of hosts with very few numbers of consistent networks.

In case of Class B network, there are moderate numbers of networks each with moderate number of hosts.

In case of Class C network, there are a large number of networks each having very less number of hosts.


As discussed earlier, an IP address is of 2 bit length and each IP address is divided into 2 parts viz:
1. Net ID and
2. Host ID
For a class-A IP address, as there is very less number of networks but each with more number of host's one octet is used for netID and 3 octets are used for HostID.
For a class-B IP address, as there are moderate number of networks as well hosts, two octets are used each for net ID and host ID.
For a class-C IP address, as there are more number of networks each with less number of hosts net ID is of 3 octets length and host ID is of one octet length.
The syntax of class A, B, C IP address is shown below.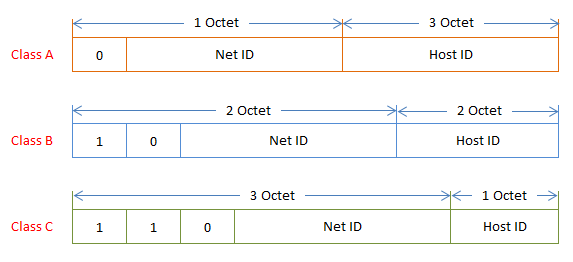 ---
Latest Articles
---
Average Acceleration Calculator
Average acceleration is the object's change in speed for a specific given time period. ...
---
When an object falls into the ground due to planet's own gravitational force is known a...
---
---
---
---